Nicolas Paz / 早稲田大学ビジネススクール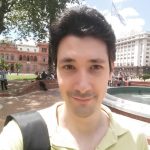 [Profile] My background is quite simple: I studied Software Engineering for three years before changing careers and graduating from Business Administration in Argentina. Worked in the IT industry for about three and a half years and in the Finance one for another four years. Particularly, before coming to WBS I was working as an independent investor advisor and as a Business Consultant for a Fintech.
---
Before joining WBS I did not know the concept of Zemi, however given my experience during this first year and seeing how a Zemi works, I believe there are two main aspects to evaluate a Zemi. Those two aspects are your Classmates and the Professor.
Classmates:
When Professor Maki introduced his Zemi on one of the first days of classes I remember he had to bring a paper sheet for us to reserve a spot for the interview, and that paper quickly got filled as the introduction to his Zemi looked fresh and innovative. When I first applied, I had no idea of who my classmates were going to be. Now after being in the Zemi for almost a year I can tell that there is a lot of careful thought on the student selection for our Zemi.
Not only the professor carries out the interviews, but he also asked us (Zemi members) about what we consider the Zemi needs or what characteristics should a student have in order to be a best match for the Zemi, therefore allowing the current students to have a saying in the selection process which not every Zemi does and I consider it is vital for the group cohesion.
Regarding my current classmates I deeply regret that covid19 forced us to move into online classes for a whole semester, as I feel part of our interaction got lost on Zoom as it's a bit harder to connect with someone online when compared to having traditional classes. But even in those conditions I can vouch for their passion, spirit and professionalism and even through the virus and the quarantine isolated us all I believe we were still able to form a solid group in our Zemi.
Professor:
Professor Maki has a strong focus on new technologies, innovation, and empirical research. This focus is easy to observe both in his Zemi and classes. Like other zemis we do case analysis but ours are very focused on new technologies like 3D Printing, blockchain technologies, Artificial Intelligence, Innovation and Entrepreneurship among other subjects. I have heard several praises on the quality on the cases selected and the discussion they generate from Zemi and non-Zemi members
Something that differentiates his classes and Zemi is the use of simulations both as a way of competition and as for deeper understanding of the possible strategies to utilize under certain scenarios. Examples of this are the Benihaha simulation and the Food Truck Challenge.
Maki is constantly encouraging us to utilize new tools and technologies into our class like CAD, Stata, Sli.do and Slack. This makes the Zemi more challenging, but at the same time more rewarding.
Other than case studies we have opportunities to present to the rest of the class subjects we are personally interested as well as company visits during the semester and during the different breaks.
Summary
Overall, I am quite happy with choosing this Zemi as I am positive that the skills obtained from it will help me with my future goal of making my own entrepreneurship and that I can count with both: Professor Maki and my Zemi classmates if I ever need their collaboration.
---
次回の更新は8月14日(金)に行います。