Kevin Chang / International MBA M2 Maki-zemi/Waseda Business School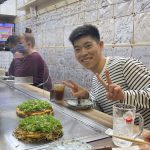 [プロフィール]Kevin is a 2nd year MBA student at Waseda Business School. Prior to enrolling at WBS, he worked in investment banking and private equity in California covering enterprise software and consumer internet companies. This past year, he interned at a venture capital firm based in Singapore. Kevin graduated from the University of Southern California in 2016 with a bachelor's degree in Business Administration.
---
My first visit to Japan was a family trip to Tokyo in 2015, but contrary to expectations, I didn't feel love at first sight. Only after skiing in Hokkaido in 2017, where I experienced the Japanese countryside, open-air onsens, and local seafood, I became enamored with the country. However, the road to living in Japan was long and fraught with uncertainty: I couldn't speak the language and was still barely a year into my career. I had fallen in love with Japan, but this fascination felt disconnected with actual actionability. I began to study the language, beginning with baby steps and learning the literal ABC's (hiragana and katakana) but eventually ran into numerous roadblocks as more complex grammar and vocabulary appeared before me.
In 2018, after a year of casual self-study where I prioritized my career over aspirations for Japan, I visited a ramen restaurant in Boston called "夢を語れ," literally "Speak Your Dreams," based on a recommendation from a friend. The concept for the restaurant was novel, the seating layout was similar to a classroom, and upon finishing their meal, diners were encouraged to share their dreams with everyone in the room, with all other diners cheering and showing their support. I remember vividly the pivotal moment after I had finished my meal when I announced that my dream was to physically live in Japan in the near future. By announcing it to the world, I felt a sense of finality and renewed vigor with which to reapproach my Japanese studies.
Finally, in 2021, after a few more years of working, I took the leap of faith and applied to Waseda Business School, hoping that I would be able to 1) realize my dream of living in Japan, 2) pivot my business career internationally, particularly within Asia, and 3) continue to improve and practice my Japanese in a real-world setting. Since arriving in Japan, I feel that I have achieved on all three fronts and thoroughly enjoyed my time at WBS. An international school, Waseda feels like a family despite the initial COVID setbacks from online classrooms, and the bonds I have forged with my fellow students and professors are ones that I will hold dear well beyond graduation.
I hold particular gratitude to my zemi professors, Kanetaka Maki and Hiroshi Kanno, who have both given me the opportunity to visit a wide array of companies in Japan with particular emphasis on local operations (e.g. sake manufacturing & fishing) as well as technology (both domestic and foreign hardware and software companies). Through Maki Zemi, I have also experienced facets of Japan that are so off the beaten path they probably aren't marked on the figurative map – our trip to Tsushima, a remote island in Nagasaki prefecture, felt like a bona fide, once-in-a-lifetime experience that could only have been organized with the help of my Japanese classmates. Additionally, Maki Zemi has allowed me to practice my Japanese in a practical setting, and while I personally feel that I have a long way to go, I plan to continue to enjoy the journey and let things play out in its natural course.
Relatedly, Japanese has a phrase, なるようになる, which roughly translated means "what will be, will be." And while I generally agree with the phrase for all its intents and purposes, I'm also a firm believer that certain things in life are within our control and are there for the taking if you have the determination and appropriate action plan to achieve your dreams. And announcing those dreams aloud is a wonderful first step towards their manifestation.
---
次回の更新は1月27日(金)に行います。
#ゼミ