Hanbin Wang / Graduate School of Social Sciences , Waseda University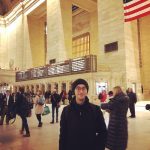 [Profile] I joined Waseda University as a Master's Degree Student of the Graduate School of Social Sciences since September 2019. Before moving to Japan, I earned my Bachelor Degree of Art in Environmental Design (focusing on urban planning) from the State University of New York at Buffalo. During my four-year undergraduate study, I learned a wide range of topics about urban planning such as 'urban design', 'environmental justice', 'land use', and 'real estate development' from both lectures and workshops. In addition, I joined my professor's research team as an assistant to help conduct academic research on climate change, which is one of the most prominent social and environmental issues in recent years, and even had great opportunity to conduct an internship about healthcare in a local NGO called "CCNY" in Buffalo, New York. My current research field is 'Global Governance Study', a new interdisciplinary topic in recent years under the course of globalization. The reason why I got enrolled in this MicroMBA program is because I believe that business knowledges are becoming quite essential in today's world and business mindset is exactly what we need for problem solving anytime, anywhere in reality.

What is "Waseda-UCSD MicroMBA"
'Waseda-UCSD MicroMBA' is an online program that allows students to gain MBA-level of business knowledge throughout six lectures given by both the faculties from Waseda Business School and UCSD Rady School of Management. It is an English-taught business program open to not only Undergraduates, Graduate Students, Ph.D. candidates, Post-Docs and Researchers from Institutes of Skyward EDGE Consortium, but also fully employed individuals. (NEXT)
My Experience of "Waseda-UCSD MicroMBA"
My overall experience of Waseda-UCSD MicroMBA was wonderful! It is such an informative and interactive business program even though we had only six sessions and they are all completely online. The MicroMBA sessions contained a wide range of business topics, such as 'Innovation', 'Marketing', 'Finance', 'Product/Service Innovation', 'Strategy', and 'Experiment'. Other than that, we were using "Slacks" and "Zoom" to run the entire program. In day one, Professor Kanetaka from Waseda Business School held us the orientation session to go over the instructions and detailed information of our program, then he gave us the first lecture about 'Innovation', which allowed us to understand the definition of 'business innovation' and how it distinguishes from 'business invention' throughout brainstorm and in-class discussion. The first session provided us the framework of what businesses doing with innovation and invention to maintain their competitiveness and better survive in the market. The second lecture taught by Professor Amir from UCSD pulled up the concept of 'Marketing' for the very first time among the program. In this session, we learned about 'Strategic Marketing', 'Market Analysis', and 'Segmentation', which showed us the picture of how businesses identify their roles and better design their products and services meet the customers' demand and gain more prof-its based on that. After that, Professor Nobuhiko Hibara from Waseda Business School delivered the topic of 'Finance' by introducing us the difference between 'Finance' and 'Accounting', and showing us financial terms, equations, balance sheets, and how to read the business situations throughout all these tables. Then, in our fourth session, we learned about 'Product/Service Innovation' specifically from Professor Krishnan of UCSD. Professor Krishnan helped further elaborate on what we learned from our first lecture throughout the graphs & charts, and detailed explained to us some great examples of product and service innovation in real world. Afterwards, Professor Ikegami from Waseda Business School went deeper on the topic of 'Business Strategy' in our fifth lecture. That time, we were introduced both 'competitive strategy' and 'non-competitive strategy', more specifically, we were focusing on Michael Porter's theory, which consists of 'Cost Leadership', 'Differentiation Strategy', and 'Focus Strategy'. This lecture provided us a more comprehensive understanding of business strategy in real world. In our last session, Professor Floyd from UCSD gave us an overview of 'Business experiments', which allows us to gain basic understandings of what businesses doing to assess the products or services they created before releasing. Overall, the program not just provided such a wonderful opportunity to gain a general understanding of business knowledge, but also broadened my horizon in business world and start developing entrepreneurial mindset since then, which could be super helpful for me in the future.
What I Like About This Program
• Slacks & Zoom
To set up the online program, we were using "Slacks", a widely-adapted messaging platform to get connected with other student participants, receive course materials and new updates before and after each lecture, upload our assignments, review each other's work and communicate with our program manager once we have questions or any other ideas about the program. To conduct distance learning, both the instructors and student participants were using "Zoom", a remote conference service, which enabled all of us to conduct online courses almost the same as what we do in the real class. For example, the student participants can simply click the "Raise Hand" button on the toolbar once they have questions to ask or if they would like to answer a certain question, then the instructor would notice the students who raise hands and ask them to turn on the microphone to speak out one by one. Or if the students prefer not to speak on the microphone, but still want to deliver their ideas or thoughts to the rest of the class, they can simply type their thoughts on the chat window and send it to everyone. More than that, the instructors can even randomly make the entire class into groups throughout the system when doing in-class discussion, which is both cool and helpful!
• Course Curriculum
The course curriculum was perfectly designed. Rather than running the program six days in a row, there were several days in between each lecture, which provided us enough time to both study what we were going to learn in the next session and review what we had learned from the previous session. Because of that, I didn't feel stressful throughout the entire program and nev-er felt that I couldn't catch up the lectures either. More than that, the lectures were fun and interactive. One thing I love about the lectures were that the instructors were always motivating students to share their thoughts even though the answers might not be correct. Therefore, I didn't feel afraid of being engaged in the class.
• Faculties from both Japan and US
Since the program was taught by the instructors from both countries, we were able to experience different styles of teaching and benefit from the assets of both institutes, which is not everywhere else.
• Feedback & Certificate
At the end of our program, the program managers had an exit meeting with all of us to ask for some feedbacks and thoughts to help further improve this program in the future. Also, all of us received online survey from the program managers via email and being asked to help fill them out, which was great! In addition to that, the certificate of completion would be awarded to the student participants who complete the program and meets the requirements.
Who should Enroll in MicroMBA
The program should be referred to those people who are interested in business knowledges, companies, new technologies, and problem-solving.
Work Cited:
NEXT. (n.d.). Retrieved from NEXT.
---
次回の更新は5月15日(金)に行います。
#MicroMBA