Brendon Ross Pritchard/International MBA M2 Maki-zemi/Waseda Business School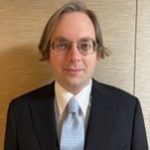 [プロフィール]Born in Southern California, Brendon graduated from Princeton University with a degree in East Asian Studies. Upon graduation in 2007, he moved to Japan and worked as a Coordinator for International Relations on the northern island of Hokkaido as part of the JET Programme. From there, Brendon moved to the Tokyo area and entered the video game industry as a translator. Most recently, he served as a Global Coordination Manager at Sony PlayStation.
---
Waseda Business School students, faculty, friends and family, thank you for joining us and welcome to Waseda University. My name is Brendon Pritchard, and I am honored to serve as valedictorian for the International MBA Graduating Class of September 2023.
Looking back on our two years together, I am struck by how quickly it all went. It feels like yesterday I was attending orientation and deciding which seminar to join. Wondering whether I had the discipline to go back to school after years in the workforce. Excited to meet my new classmates and professors. Hoping there would be enough time to take every class I was interested in. (Spoiler alert: There wasn't.) Now, two years later, it is time to shift our mindset away from "Hello" and "Nice to meet you" to "Goodbye" and "Keep in touch."
These experiences, of course, are universal to all graduates, regardless of the program or year. Unique to our class, however, was our experience with COVID-19 and remote learning. Our orientation two years ago took place entirely over Zoom, as did many of our classes and seminars. No doubt there were upsides to this – I'm sure all of us had days when we were grateful we didn't have to brave the daily commute to campus. But, as you know all too well, there were significant downsides. Limited classroom interaction. No casual conversations between classes. No chance to get out and explore Tokyo and Japan as a group. A large number of our classmates were unable to even enter Japan until well into 2022.
That being said, it did make spring of 2022 particularly memorable. Every few days, new people would appear in our core classes. People whose faces we had seen and whose voices we had heard every single day for months, but whom we had never met in person. It was exciting, and a little strange. But I have to say, it felt good to watch the classrooms that started out mostly empty, no more than 10 students, slowly fill to capacity. The whole atmosphere of the campus changed. After 3 years of lockdown, I had almost forgotten what it was like to be around so many people at once. It was all a bit overwhelming, to be honest. But it was a wonderful feeling.
And yet our ordeal is not yet over. New variants are appearing and cases are rising again. Even today, our loved ones have to watch us remotely rather than sharing the moment with us in this room. I think I speak for everyone when I say: "It's been rough." And when I say everyone, I don't just mean the students. Our professors, too, didn't have it any easier. Keeping students engaged and encouraging discussions when most of the class are just little windows on a Zoom screen is a colossal task for even the most experienced educator. So I would like to take a quick moment to thank our professors and the whole WBS staff, who rose to the challenge and provided us this wonderful experience in the face of the significant challenges brought on by the pandemic. Please give them a round of applause.
There are many others who deserve our thanks, as well. For my part, I would like to thank Professor Maki and all of the members Innovation & Entrepreneurship seminar, both classmates and alumni, for making my experience at WBS so worthwhile. From interviews with research scientists looking to commercialize their inventions and coming up with business ideas for residents of Sri Lanka all the way to visits to Google and far flung islands in Nagasaki Prefecture, I was exposed to worlds and ways of thinking I had never before encountered. Not to mention the opportunity to share experiences with my fellow zemi members, showing me how the business principles we were learning both in zemi and other classes were applicable to all industries, from steel to entertainment.
And I would be remiss to forget the families that supported us, often across vast distances. I need to mention my mother and brother, who supported and encouraged me all the way from California during my MBA studies and throughout the entire COVID-19 ordeal. It was not easy being separated by the Pacific Ocean during such a trying period, but our late night/early morning Skype calls and frequent emails meant that I always felt them close-by.
And of course, I want to thank my partner for standing beside me over these two years, always my strongest advocate and harshest critic. You knew I could do it when I didn't. And you never let me settle with "just good enough" when you knew I could do better. Thank you. And yes, I promise to hurry up and get a job already.
In closing, I would like to congratulate all our new graduates for finishing this 2 year journey. Some of us will be staying on in Japan, while others will be returning to their home countries with the new skills they have gained here at WBS. Still others will set off for frontiers unknown. However, regardless of future destination and physical distance, we will remain connected by our experiences at Waseda. One network and one community. People we know we can always rely on for help or advice. And yes, people we know will always be up for a few drinks or a karaoke night. Going forward, I hope we continue to cherish the bonds we formed here in Waseda, both with each other and with our professors. I am certain they will be invaluable to us in the future, not just as resources but also as friends and confidantes.
I hope that you will remember and use what we learned here in your future careers. Not just your newfound knowledge of finance, accounting, or management, all important to be sure, but also of ethics and morals. ChatGPT might be able to give you the formula for net present value, but it cannot give you a moral compass. So I ask you not only to hold on to the facts and information you learned here, but to hold on to more subjective things. Your opinions and feelings. The cases you read and the decisions you made that felt "right" or "wrong" to you. Safe as we were in our ivory tower, we were free to test new ideas. To challenge each other's viewpoints. And to foster and develop our own moral centers. These shall serve as our lodestars as we navigate the complex world of business that awaits us, no doubt filled with choices that will be anything but black and white.
Aristotle said: "Moral excellence comes about as a result of habit. We become just by doing just acts, temperate by doing temperate acts, brave by doing brave acts." Over these two years, we had many chances to practice these acts. Now is our chance to turn them into habits, to make a difference in the wider world. So I ask you to be just. I ask you to be temperate. And I ask you to be brave. That is my challenge to you, and to myself.
Congratulations again to all of our graduates. We did it! Thank you.
---
次回の更新は9月29日(金)に行います。