Nancy Gao / International MBA M2 Maki-zemi/Waseda Business School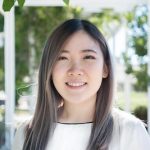 [プロフィール]Born in the California Bay Area, Nancy is a second-year MBA student at Waseda Business School. Before enrolling at Waseda, Nancy worked as a Product Marketing Manager at Foxit, a leading PDF Software company globally. During her career, Nancy spent more of her time working in digital transformation initiatives, specifically in EdTech and Accessibility solutions.
---
Why I Chose to Get an MBA in Japan
Growing up near California's Silicon Valley, I was always surrounded by individuals working in the tech industry. When I graduated with my bachelor's degree in Business Administration, it felt like a no-brainer that I would follow in the footsteps of my fellow peers and find a job in the same space. Eventually, I found myself spending the next three years dedicating my time to the digital document space and pursuing a newfound passion in EdTech.
EdTech, short for Education Technology, is used to describe new implementations of technology into learning solutions. When COVID-19 hit, I had just finished my first year working full-time. Thankfully our company did not have any problems transitioning to a work-from-home environment, because we were a digital document software company. However, we saw an immediate and eminent need from our client side, especially in education. Unlike many other industries, the education system is still very paper heavy and has not transitioned to digital document workflows. During my work as a PMM, the biggest challenge we faced was helping our APAC market adopt more EdTech solutions to create a hybrid learning space for students to have equal access to the learning environment that they deserved. Working with my clients from APAC motivated me to learn more about how the education system works in Asia and was the first trigger that began my application process for an MBA in Japan.
Waseda and Zemi Culture
One of the first things that piqued my interest when I enrolled in WBS was the concept of a "zemi." As I was searching for the right zemi to apply for, I found Maki Zemi's topic of Science, Technology, and Entrepreneurship fell right in line with the reasons that I applied for my MBA in Japan. I knew that under the guidance of Professor Maki and my zemi members, I could be surrounded by like-minded individuals that would inspire me to develop a meaningful thesis and future career goals. Initially I thought that a zemi would be modeled similarly to how graduate students in America work under their academic advisors. To my pleasant surprise, zemi ended up being more than just an advisory course.
Engaging in EdTech, Zemi Research Trips, and More
Maki Zemi is always packed with engaging activities, from research articles to hands-on business experiments that could be applied in real life use-cases. One of the unique aspects of Maki Zemi is the number of EdTech solutions we use to make our community learning experience more effective and efficient. From Miro Boards to Slack, Maki Zemi truly keeps up with eLearning trends to make it easier for students to take notes and keep a digital trail of our weekly activities and achievements on various digital platforms. Being able to use EdTech solutions as a student was something that I did not have as much when I was an undergrad student, and it excites me to see how education is transforming in a digital age.
One of the most memorable moments within Maki Zemi was our research trip to Tsushima, where we had a once-in-a-lifetime opportunity to see a remote fishing island under the guidance of locals. The research trip was held as a joint zemi event with Waseda science graduate students from Omori Zemi, and we were able to learn from each other's academic backgrounds to develop ideas to help promote Blue Tourism.
Being a member of Maki Zemi is more than just being in an advisory class. The way I view it, Maki Zemi is a close-knit community and my family away from home. This semester, I had a lot of fun organizing zemi activities like alumni speaking sessions and company visits as zemi-cho. I can't wait to see what the rest of the year holds!
---
次回の更新は2月3日(金)に行います。
#ゼミ