Merck Paisalachpong / Waseda Business School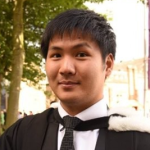 [プロフィール] Merck is a second-year MBA student at Waseda Business School. He used to have a career in corporate banking before switching his career into the culinary industries for several year. During his second-year at Waseda Business School he has been working in an ERP consulting company. Merck earned a bachelor's degree in Economics from Durham University in 2016.
My family's business ties in Japan have allowed me to travel back and forth between Bangkok and Tokyo since when I was very little. Despite having lived in the UK, and also having travelled to Japan on numerous occasions before moving to the country, Tokyo was relatively difficult to settle down for a foreigner as you have to overcome various challenges that arise from differences in customs and traditions. These challenges gave me the appetite to pursue a career in Japan and I thought attending a business school in Japan would provide me with a solid foundation to excel in Japan.
After consulting with various friends, colleagues, and family members I found that Waseda Business School has the right balance between being a well renowned business school and having a university campus life. Furthermore, the wide range of MBA courses offered at WBS could provide me with the opportunity to interact with both international students and Japanese students. Doing this would give me greater exposure as well as give me greater connections in Japan which can hugely benefit my goal of pursuing a career in Japan.
Waseda's main campus in Tokyo was probably the biggest reason to why I chose WBS instead of the other MBA courses offered in Japan. Tokyo is one of the largest metropolitans around the world and offers an array of activities for students to do ranging from activities related to food and culture to sports and festivals. The city offers basic convenience that people tend to take for granted such as having convenience stores everywhere and having a reliable public transportation system. At the same time, minor difficulties and challenges will appear as the country is still heavily reliant on Japanese language so performing some basic chores in Japan can be at times difficult for foreigners with zero Japanese.
When I joined WBS, I was drawn to the Science, Technology and Entrepreneurship Zemi not only because of the Zemi contents but because of the Zemi members. The diverse background and culture amongst the members gave us the opportunity to share our different experiences and apply them to some of the activities that were conducted during the Zemi. Additionally, all the Zemi members were able to actively engage and also offer opinions on how the sessions should run as we continuously seek to improve how we conduct the Zemi sessions.
We would also at times have Zemi activities and events that would allow the members to participate in activities that are not common, especially amongst the international students. Occasionally, we would also have interesting company visits to companies within the tech industry. All these extra sessions gave us not only a unique valuable experience but also gave us the opportunity to bond amongst the Zemi members.
Luckily I was also given the opportunity to be part of the teaching assistant team for the evening Technology Operations and Management class. Having taken the class myself a semester earlier in English, this opportunity allowed me to experience the difference in atmosphere between an international MBA class an evening MBA class that had more career established members. Apart from being able to experience this difference, I was also able to meet and talk to interesting people from the evening MBA batch. I cherished this invaluable opportunity that is rare for most international students in Japan.
Furthermore, me and several other international MBA members also travelled to Kyoto in a small traditional Japanese city called Kyotango. The trip was extremely memorable as the international MBA members were able to fully experience multiple traditional Japanese grass root projects at the city. I believe that the opportunity was not only rare for international students but also rare for most Japanese people. Meeting the mayor of the city and hearing about the development plans of a small city was inspiring as it showcased how there are still many more hidden gems hidden in Japan that are tucked away from the mainstream media.
Above all the activities and events that we have, I feel that everyone who has been part of this community is open and willing to provide support and help for one another. This openness and friendship within the community is what I truly believe is the core to bringing people together to form a learning community.
---
次回の更新は3月4日(金)に行います。
#ゼミ