Wijesinghe Ramesh Asanka / 早稲田大学ビジネススクール 
[Profile]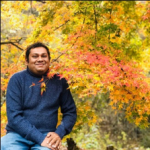 IMBA , M2 student. Employee of Sri Lanka Government, Assistant Commissioner to Local governments in central provincial council Sri Lanka. JICA scholarship holder.
---
Sri Lanka Administrative Service is considered to be the prime service in Sri Lanka. Most of the secretaries to ministries, provincial secretaries, and heads of departments are appointed from this service. I am a young member of the Sri Lanka Administrative Service with Six years' experience therefore; I have an immense responsibility on solving the issues related to socio economic development of Sri Lankan community.
Officers are responsible for making policies with the co work of political leadership in Sri Lanka. The basis for making policies is analysis of socio economic and cultural needs of citizens. Therefore, it is necessary to advice political leadership with scientifically analyzed data or information with high reliability. I strongly believe that the skills will be enhanced to analyze business management data with the aim of regional development of Sri Lanka.
Furthermore, I am looking forward to gain knowledge on new strategies in businesses process development from the Waseda University especially from Maki Semi. By following a multi-disciplinary program with variety of business management subjects I have the opportunity to analyze research problem from different angles. That will definitely improve my conceptual and thinking capacity. As a result of that I will be able to analyze any problem related to business management from different point of views. The knowledge gained from Maki semi and STE subject will be definitely advantageous for my future carrier prospects as well. Reputed academic personals and study on innovative entrepreneurship environment in the semi will also be useful to exchange various ideas in my academic life in Japan.
As a result of improving my knowledge and skills, I am confident that I will be able to bear more responsibilities in my current employment. Also this will be a qualification to my next promotion in the administrative service. The experience gained from the Japanese academic life will be useful to enhance my capacity in personal and professional life.
The research experience in Japan will lead to implement various kinds of social research in Sri Lanka. I am confident that I will be able to guide motivated students in STE. In addition, I will be able to act as a resource person in training and development of employees.
Apart from the academic experience, I had an opportunity to Visit Silicon Valley in September 2018 it will be useful to understand innovation , networking and STE how to develop future business in my country. Inclusive business development by achieving SDG is future challenge to business community, because governments are highly concern on theses universal concepts due to globalization. Small business promotion methods and rural livelihood development methods also can be learnt though inclusive business and STE. The ultimate goal of these experiences is to be a good and productive government officer with the aim of making a prosperous Sri Lanka.
---
次回の更新は1月11日(金)に行います。次回は早稲田大学ビジネススクールのDilumi Kumaraguruさんです。
#IMBA
,
#全日ゼミ